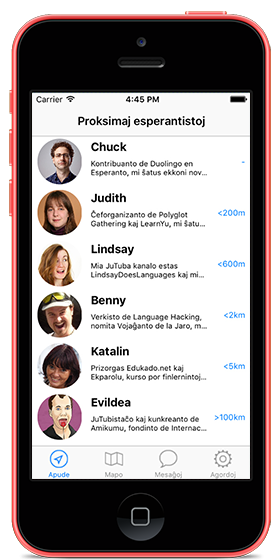 Amikumu is a free mobile app that helps you find nearby Esperanto speakers (or other languages). Its name means "do the friend thing" in Esperanto.
To use the app, you first need to create an account with the following details:
A name
A profile picture
A short bio
The languages you speak and at what proficiency. The list of languages is extensive and includes conlangs such as Klingon, Dothraki and Toki Pona.
Once you have setup an account, you can see a list of nearby Amikumu users. You can view their profile and if you want to arrange a meetup with them you can send a message. This is a fantastic way to find speakers in your local area.
The app was developed by Chuck Smith, one of the Duolingo Esperanto course creators, Evildea and several other prominent Esperantists. It was crowd-funded on Kickstarter for €26,671 by 429 backers. The campaign attracted sponsorship from big names in Esperantujo including: the Universal Esperanto Association, the Esperanto Association of Britain and Pasporta Servo.
So why not give Amikumu a try, there may be an Esperanto speaker nearby that you never knew about!